How did Beyoncé, Simone Biles, and boozeless beer shape our shopping trends? As the year winds down, it's time to review 2021's retail predictions—and the surprises that popped up along the way. This trend analysis can give U.S. and global consumer packaged goods (CPG) suppliers and retailers clarity on adapting to and satisfying consumers' evolving needs.
Overarching Retail Trends
Affordable assortments have helped Walmart and Target boom during the pandemic and, for the fifth consecutive year, Amazon was named the cheapest online retailer in the U.S.1 Bertoni, Steven. Why Target, Walmart and Best Buy Are Booming Amid The Pandemic – And Being Hailed As Heroes. Forbes. October 14, 2020. ,2 Berthiaume, Dan. The online retailer with the lowest prices is … Chain Store Age. November 11, 2021. As 45% of Americans have trouble affording food, Kroger launched a subscription program that offers discounts and Instacart's app now highlights opportunities to save money.3 Inflation means economic recovery is passing many Americans by. The Economist. November 15, 2021. ,4 Anderson, George. Kroger Apes Amazon Prime – And Why Not? Forbes. November 9, 2021. ,5 Ryan, Tom. Instacart wants 'to make online grocery shopping more affordable.' RetailWire. November 15, 2021. Also, Dollar General and Dollar Tree added stores to help more consumers stretch every dollar.6 Vembar, Kaarin. SKU'd: Another day another dollar store. Retail Dive. April 7, 2021.
Buy-now-pay-later (BNPL)
Amazon, Walmart, Macy's, and Bed Bath & Beyond recently added this form of installment financing.7 Andriotis, AnnaMaria. Amazon Is Doing It. So Is Walmart. Why Retail Loves 'Buy Now, Pay Later.' The Wall Street Journal. September 16, 2021. BNPL services, offered by companies like Klarna, Affirm, and Afterpay, account for 2.1% of global e-commerce transactions, and that rate is expected to double to 4.2% by 2024. 8 Browne, Ryan. How buy now, pay later became a $100 billion industry. CNBC. September 21, 2021.
Beauty leaders want consumers spanning the full rainbow of complexions to feel welcomed and valued. Ulta Beauty is investing $20 million in media across multicultural platforms to reach Latinx and Black consumers, and Sephora launched its first campaign celebrating Black-owned brands.9 Repko, Melissa. Ulta Beauty to double Black-owned brands in its stores, feature more Black women in ads. CNBC. February 2, 2021. ,10 Salpini, Cara. Sephora plans first campaign highlighting Black-owned brands. Retail Dive. August 26, 2021. For cross-category diversity, Amazon committed $150 million to support Black-owned businesses, and Walmart and Sam's Club are helping diverse and minority-owned suppliers access capital to grow and scale. 11 Berthiaume, Dan. Amazon commits $150 million to supporting Black-owned businesses. Chain Store Age. June 17, 2021. ,12 LaFave Grace, Christine. Walmart Moves to Enhance Capital Access for Diverse Suppliers. Winsight Grocery Business. April 28, 2021.  
Sustainability
As more shoppers embrace conscious consumerism, including sustainable habits, Target, Walmart, and CVS Health collaborated in The Consortium to Reinvent the Retail Bag Initiative to develop alternatives to single-use plastic bags.13 Wells, Jeff. Walmart, Target to launch reusable bag pilots. Retail Dive. To keep furniture out of landfills, IKEA launched its Buy Back & Resell service to let consumers sell back gently used IKEA furniture in exchange for a store credit.14 Silberstein, Nicole. Sustainability in Action: IKEA, Crocs, UGG Expand Reuse and Resale Offerings. Retail Touchpoints. November 5, 2021.
Shop small & local
Consumers and retail giants are embracing small businesses for their authenticity, agility, and variety. The launch of Amazon Local Selling allows small- and medium-sized businesses that sell products on Amazon to offer in-store pickup and fast delivery. 15 Palmer, Annie. Amazon launches in-store pickup option for items from local businesses. CNBC. October 21, 2021.  Shopify partnered with TikTok to allow small businesses to link their products in videos on the social media platform for in-app shopping.16 Deczynski, Rebecca. Small Businesses Are Making Serious Sales on TikTok, Thanks to a New Feature. Inc. November 1, 2021.
Convenience
A huge surprise was how global retail efficiency catapulted forward in 2021, with tech within grocery leading the way. To maximize e-commerce convenience, rapid-grocery delivery players in the U.S., U.K., and Europe (including Instacart and 7-Eleven in the U.S. and Tesco and Gorillas in the U.K.) now deliver consumers' CPG orders in as few as 10 minutes.17 Moss, Trefor. A New Market Emerges for Online Delivery: 10-Minute Groceries. The Wall Street Journal. November 1, 2021. , 18 Eleven & Instacart Partner on 30-Minute Delivery. Convenience Store News. May 24, 2021. , 19 Koilparambil, Aby Jose. UK's Tesco offers 10-minute deliveries in tie-up with Gorillas. Reuters. October 28, 2021.   To boost in-store convenience, Amazon started adding Just Walk Out contactless checkouts to Whole Foods and Amazon Fresh stores, as well as Sainsbury's stores in the U.K. 20 Redman, Russell. It's a 'Go' for Amazon's Just Walk Out at Whole Foods. Supermarket News. September 8, 2021. ,21 Vincent, James. Amazon's cashierless tech makes first appearance in a rival store outside the US. The Verge. November 16, 2021.
E-commerce
While stores have reopened, e-commerce has evolved into a more frequent habit for more consumers. E-commerce sales are poised to grow 16% to nearly $1 trillion in 2021, with mobile commerce accounting for 39% of e-commerce dollars this year, as we shop from anywhere. 22 Davidkhanian, Suzy. US retail spending jumped nearly 16% this year despite inflation, supply chain woes. eMarketer. October 27, 2021.
Stores' evolution
Physical stores are maturing as destinations that serve e-commerce and deliver multi-sensory experiences. This year, buy online pickup in store (BOPIS) is expected to rise 15% and 62% of U.S. online shoppers now expect retailers to offer curbside pickup. 23 Cramer-Flood, Ethan. US Click and Collect in 2020 and 2021. eMarketer. March 24, 2021. ,24 Gray, Julia. Curbside pickup is now a must-have for customers (and retailers). Retail Brew. November 5, 2021. Also, the shop-in-shop concept is spicing up stores, including Ulta and Apple in Target, Sephora in Kohl's, and Tonal in Nordstrom. 25 yko, Kelly. Beauty rewards 101: Sephora at Kohl's and Ulta at Target bring extra perks for buying makeup. USA Today. August 21, 2021. ,26 Thomas, Lauren. At-home fitness company Tonal to open shops within 40 Nordstrom stores. CNBC. March 1, 2021.
Product Trends
Luxury and premium
Since travel and entertainment budgets piled up during the pandemic, 51% of consumers plan to splurge or treat themselves. 27 Charm, Tamara, Janette Hwang, Jackie Laird, Nancy Lu, Jason Rico Saavedra, Andrea Leon, Daniela Sancho Mazzara, Anirvan Maiti, Kelsey Robinson and Tom Skiles. US consumer sentiment and behaviors during the coronavirus crisis. McKinsey & Company. October 18, 2021. This exuberance for indulgence nudged Tiffany to collaborate with Beyoncé and Jay-Z to appeal to increasingly younger luxury consumers.28 Ramírez de Arellano, Susanne. What is Beyoncé's Tiffany diamond ad campaign really selling? NBC News. August 30, 2021. With supply chain disruption looming, Tapestry, the owner of Coach and Kate Spade, started stockpiling handbags in the summer and Chanel hiked the prices of its handbags to prepare for the holidays. 29 Karamperidis, Stavros. A Large-Scale Disruption in Container Shipping is Expected to Wreak Havoc on Retail This Christmas. The Fashion Law. September 7, 2021. , 30 Aloisi, Silvia. Chanel hikes handbag prices in run-up to Christmas. Reuters. November 4, 2021.
Mind and body nourishment
The pandemic has fuelled sales growth in self-care products, including soaps, lotions, and candles. Bed Bath & Beyond's CEO, Mark Tritton, said the retailer's personal care business is "booming." 31 Ho, Karen. Self-care is helping retailers stay afloat. Quartz. January 9, 2021. Also, the high-profile struggles of Olympic athletes Simone Biles and Naomi Osaka influenced some fans to slow down, manage stress, and protect their mental health. 32 Rosenberg, Michael. Simone Biles, Naomi Osaka Signal New Era of Prioritizing Mental Health. Sports Illustrated. July 27, 2021.
Gut health
The global probiotics market is in-demand for promoting healthy bacteria and digestion. 33 Rifkin, Melissa. The #1 Best Breakfast for a Healthy Gut, Say Dietitians. Eat This, Not That! November 15, 2021. It's expected to grow at a compound annual growth rate of 6.8% between 2020 and 2027. 34 Probiotics Market To Surpass US$ 80.0 Billion By 2027. Food Industry Executive. April 28, 2021. Immunity-boosting probiotics can be found in products like yogurt, kefir, kimchi, sauerkraut, and kombucha.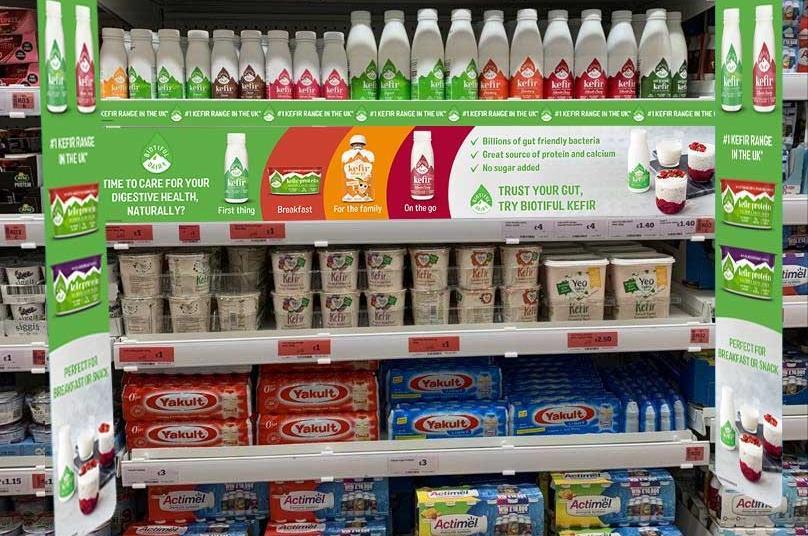 Apparel bounces back
In 2021, the apparel and accessories category earned the highest sales growth rate (28.7%). 35 Lebow, Sara. What US retail categories are growing the fastest? eMarketer. June 15, 2021. As consumers still crave comfort and athleisure booms, Lululemon expects to surpass its 2023 revenue target by the end of this year. 36 Salpini, Cara. Lululemon to surpass 2023 revenue goal by the end of the year. Retail Dive. September 9, 2021.
Plant-based boom
The global market for plant-based dairy and meat alternatives could grow to $162 billion by 2030, up from $29 billion in 2020, comprising 7.7% of the global protein market. Top players in this space include Beyond Meat, Impossible Foods, Oatly, Tyson Foods, Kellogg, and Nestle. 37 Elkin, Elizabeth and Bloomberg. Plant-based food sales are expected to increase fivefold by 2030. Fortune. August 11, 2021.
Non-alcoholic beverages
Rising demand for non-alcoholic beer has prompted major players Anheuser-Busch InBev, Heineken and Coors Brewing Co. to launch zero-alcohol beers. Booze-free beer is big in convenience stores, where dollar sales rose 26% to $31.4 million for the 52 weeks ending October 23. 38 Del Conte, Erin. Should I Sell Non-Alcoholic Beer at My C-Store? CStore Decisions. November 2, 2021.
Global Trends
Preventative health
Consumers' desire for wellness is fuelling demand for dietary supplements as, "the working population around the globe is struggling to fulfill the daily nutrient requirements owing to hectic work schedules and changing lifestyles." 39 Dietary Supplements Market Size, Share & Trends Analysis Report By Ingredient (Vitamins, Proteins & Amino Acids), By Form, By Application, By End User, By Distribution Channel, And Segment Forecasts, 2021 – 2028. Grand View Research. February 2021. This year, the vitamins and minerals market is set to earn global revenue of $21 billion, most of which will be generated in China. 40 Vitamins & Minerals. Statista. October 2021.
Free-from
Sustainability, milk allergies, and lactose intolerance are driving demand for non-dairy products around the world. The global dairy alternatives market will reach nearly $53 billion by 2028 (up from $20.5 billion last year), growing at a compound annual growth rate of 12.5% over the next seven years. 41 Dodhiya, Mohsina. Global dairy alternatives market to hit $52.58 billion by 2028. Totally Vegan Buzz. April 27, 2021.
Vegan
The international market for alternative meat products is expected to balloon from $4 billion to $74 billion in the next decade, with strong demand in the U.K., Australia, Israel, and New Zealand. 42 Webber, Jemima. GROUNDBREAKING: Plant Based Food Market To Skyrocket To $162 Billion, Says Bloomberg. Plant Based News. August 11, 2021. , 43 Survey Reveals Top Countries & Cities in the World for Veganism in Our Post COVID World. Vegconomist. September 16, 2020 Statistics Canada reports rising prices for bacon (+20%), beef (+13%), chicken (+10%) and dairy (5%), which could compel price-conscious consumers to choose vegan options more often. 44 Lorinc, Jacob. Your household grocery bill is skyrocketing. Here's how to keep it in check. The Toronto Star. November 15, 2021.
Domestic sourcing
This mega-trend includes Walmart's $350 billion investment in U.S. manufacturing. 45 Repko, Melissa. Walmart says it will support U.S. manufacturers with $350 billion of added business. CNBC. March 3, 2021. In addition, 93% of shoppers in Ireland and Northern Ireland seek locally produced food and beverage brands, with 27% 'always' opting to buy local. 46 Choosing local brands is high on agenda for consumers. Ulster Grocer. November 5, 2021. Similarly, 73% of U.K. consumers often or always look for British food when shopping. 47 Record-breaking number of consumers want to buy British food. Speciality Food. July 16, 2021.

This year's additional surprises reflected remarkable e-commerce growth, including Latin American markets, and soaring demand for digital advertising to help brands sell online around the clock and around the world.

What 2021 retail and CPG trends would you add?

Stay tuned for 2022 retail trend predictions.