Empty shelves and $10 bottles of hand sanitizer….ah, those were NOT the days. But working from home, learning to cook for ourselves, and becoming increasingly more aware of how dirty the world can be has created a need for more household cleaning products. COVID-19 turned cleaning brands into lifestyle brands and built disinfecting habits consumers won't soon forget. Even TikTok's viral hashtag #CleanTok glamorized cleaning by teaching millions of viewers how to clean things they didn't even know needed to be cleaned (think washing machines) and made products like sponges and stain removers go viral overnight.
Across the entire consumer packaged goods (CPG) industry, we saw e-commerce and value-driven purchasing take off since the start of the COVID-19 pandemic. This drove awareness for sustainable products across categories, especially household goods. Household products and brands centered around sustainability gained popularity, especially with retailers focused on delivery and subscription options. Read on to learn more about what makes a product sustainable and a few of the green alternatives in today's household goods market.
What makes a product sustainable?
A product is considered sustainable when it does no harm to the environment or the person using it. This includes everything from the ingredients and packaging to its recyclability and manufacturing process. While nothing manmade is going to be 100% sustainable, here are three things we recommend keeping an eye out for when looking for sustainable products.
Ingredients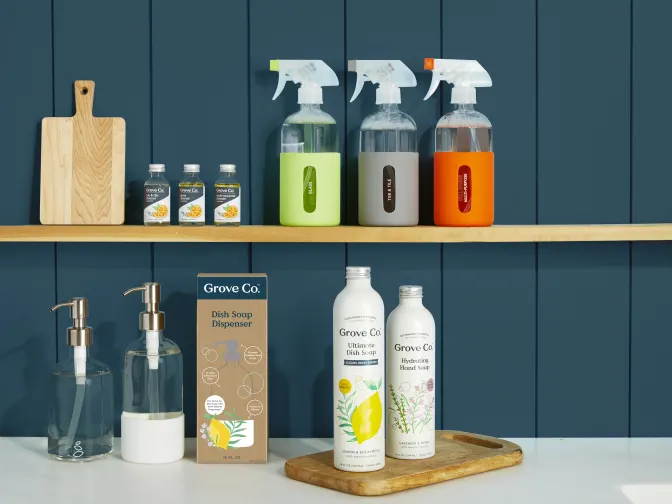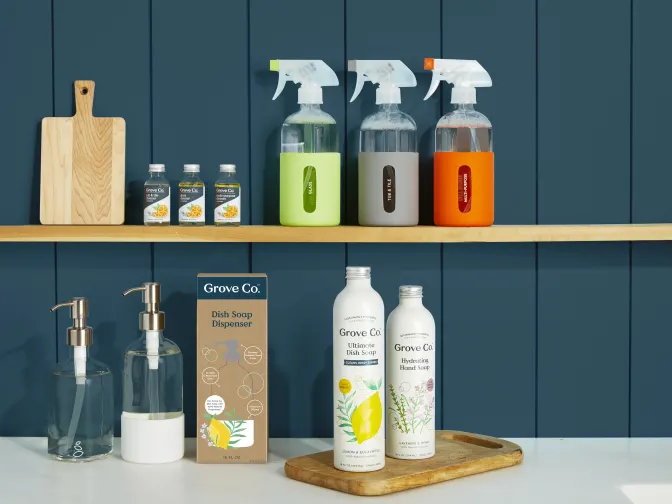 A lot of household supplies (especially cleaning products) are filled with harsh, unpronounceable, and unnecessary ingredients. These can be harmful to the environment and the surfaces being cleaned, as well as to the health of the people and pets living in the household. Leaders in the sustainable household products industry, such as Grove Collaborative, are eager to show customers how truly green their products are. Grove advertises many of its products as biodegradable, plant-based, naturally fragranced, and bottled in reusable or recyclable materials. While many well-established distributors are the real deal, the EPA warns consumers to be on the lookout for potential greenwashing; companies advertising their products as sustainable when they really aren't.
Packaging
It's 2022 and sustainable packaging is all the rage. Retailers (and their shoppers, stakeholders, and governments) are telling suppliers to go green or go home. In the case of packaging, less is more. With a little creativity, there are easy ways to cut down on the amount of packaging a product needs to sit on a shelf or during the transportation process. It's also important to understand what materials are being sourced, where they are coming from, and how they could become more sustainable or even reusable. Eco-friendly packaging should be a top priority for suppliers looking to boost sales or get onto retail shelves this year.
Brand transparency
Consumers understand it takes time and resources to fix flaws, especially when it comes to everything happening beneath the surface, such as sourcing, manufacturing, and supply chain logistics. Consumers are simply seeking assurance that brands are putting in the work and being transparent about their efforts. For brands passionate about the environment, this is a great opportunity to gain an emotional connection with consumers. Cleaning product company Seventh Generation, for example, promotes their climate change activism across their website, social media, and packaging so customers can quickly recognize the brand's mission to create a healthier world for generations to come.
Green product certifications
One of the best ways for suppliers to set themselves apart is through brand and product certifications. On RangeMe, buyers often use our certification filter to source products that are certified. As we learned during ECRM's 2022 Global Market: Spring Buying Days' educational sessions, sustainably certified products are growing three times faster than the rest of the CPG industry as consumers now recognize, trust, and are willing to pay more for products with these certifications. Click here if you want to read more about the CPG industry's most popular certifications.
If you have an interest in learning about the power behind sustainability certifications, check out a recording of our webinar, "The Power Behind Good Food Month: How Sustainability Certifications Are Leading the Way" featuring speakers from Fairtrade America, Marine Stewardship Council, and The Non-GMO Project here.
Sustainable alternatives to common household products
Bamboo toilet paper isn't the only sustainable household product on the market anymore. After taking inspiration from the clean beauty industry and a push from a global pandemic, we finally have plenty of options to choose from. The sustainable household industry is exploding with new product innovation, from reusable paper towels and plant-based laundry detergent to chewable toothpaste tablets and natural shampoo bars. Here are a few of our favorites that can be found on RangeMe.
Toilet paper and paper towels
Cloud Paper, who sells paper products such as toilet paper and paper towels made from bamboo, describes their brand as "a sustainable solution to an antiquated product category." With tons of bamboo paper products popping up online and in-stores, Cloud Paper isn't the only brand to come to this realization. While toilet paper probably isn't a product you want to be reusable, paper towels certainly can be! From simple colors to fun design, many sustainable sellers are creating paper towels you can simply throw in the wash.
Are you a buyer on RangeMe? Check out the suppliers shown above: Cloud Paper, BAMTIME, Flushd, Net Zero Co. and Full Circle.
Laundry detergent and dishwasher pods
You put silverware in your mouth and wear the clothes in your closet every day. But have you ever thought of the harsh, unnecessary chemicals that go into your laundry detergent and dishwashing pods? If you haven't, it's probably time. The market is full of plant-based, eco-friendly, and even dermatologist-tested alternatives to those big name brands you may be purchasing products from.
Buyers on RangeMe can check out the products shown above here: ecominim, Yonder Home, and Cleanfinity Brands.
Food storage
We've seen retailers and regions ban plastic shopping bags completely. Consumers are taking it one step further and kicking plastic bags to the curb in their homes as well. With so many sustainable alternatives on the market, like beeswax paper in place of saran wrap, and reusable snack bags, ditching plastic is a no brainer.
Are you a buyer on RangeMe? Check out the sustainable-savvy suppliers shown above here: Bee's Wrap, Me Mother Earth, SMASH, Sage Spoonfuls, and Weslee Rose.
Personal health
For many consumers, personal health products are one of the first places they look when switching to a more sustainable lifestyle. We're seeing tons of product innovation in this category. Products on retailers' shelves range from shampoo bars to biodegradable floss, and everything in between!
RangeMe buyers, check out the products shown above here: Fat And The Moon, SMYLE, LastObject, natürbrush, and Ritology.
And more!
We couldn't mention all of the cool sustainable products in hot demand, but a few more of our favorites include dryer balls, reusable straws, replaceable scrub brush heads, and even things as simple as hand soap or coffee filters!
Are you a buyer on RangeMe? Check out the sustainable suppliers shown above: Ibambo, Grand Fusion Housewares, and Me Mother Earth.
Why sustainability doesn't need to cost more
Sustainable products costing more than their non-ecofriendly counterparts is one of the biggest myths in the CPG market. Most sustainable products are created to be long-lasting, help cut down on waste, and reused or refilled. The product may cost more upfront, but allow for exponential savings in the long run when they don't need to be replaced every few months. Many sustainable brands, such as the toilet paper company Who Gives A Crap, offer convenient subscription options with discounts for everyday products. This TikTok video compares Who Gives a Crap's prices per ply to Walmart's great value brand toilet paper to prove shopping sustainably doesn't need to be a burden.
What's next for the sustainable household products industry?
Sustainable household products and the rest of the CPG industry face some uncertainty as consumers return to the office and adjust to less time at home. There could be a downward trend in the near future. Still, with hybrid work options on the rise and consistent convenience-centric shopping habits and conscious consumerism, we expect this industry's performance to stay well ahead of its pre-pandemic sales. Increasing sustainability efforts brought on by consumer awareness and the pressure they're putting on retailers to do their part is expanding options and innovation across markets. Suppliers and buyers looking to come out on top will need to up their game when it comes to going green.
Do you have a sustainable, eco-friendly product ready to share with retailers? Sign up for RangeMe here.