Supplier diversity is a key initiative among every major retailer, with merchants continuously seeking ways to have their supplier base more consistently reflect the demographics of the markets served by their stores.
For Walgreens Boots Alliance (WBA), these markets are global, and the organization has set very specific company-wide diversity, equity, and inclusion goals and metrics that are held accountable to the WBA board. 
But they aren't just chasing numbers and metrics. Indeed, diversity, equity, and inclusion are woven into the fabric of the company culture. "It's much more important that we think about this as a culture change within our organization," says Lauren Brindley, GVP of Beauty and Personal Care at Walgreens, who participated in a fireside chat with ECRM SVP of Retail Wayne Bennett during ECRM's Global Market: Fall Experience last month. "How we are approaching this is different than what we would normally do in terms of sales and profit types of goals."
What Brindley is referring to is the group of volunteer ambassadors recruited from throughout the organization who are passionate about making change happen. They are helping bring new suppliers in, as well as examining the current diverse suppliers that the retailer works with and figuring out ways in which they can scale them faster. By finding volunteers with a personal interest in diversity, it has become more of a cultural movement rather than just another job to be done, says Brindley.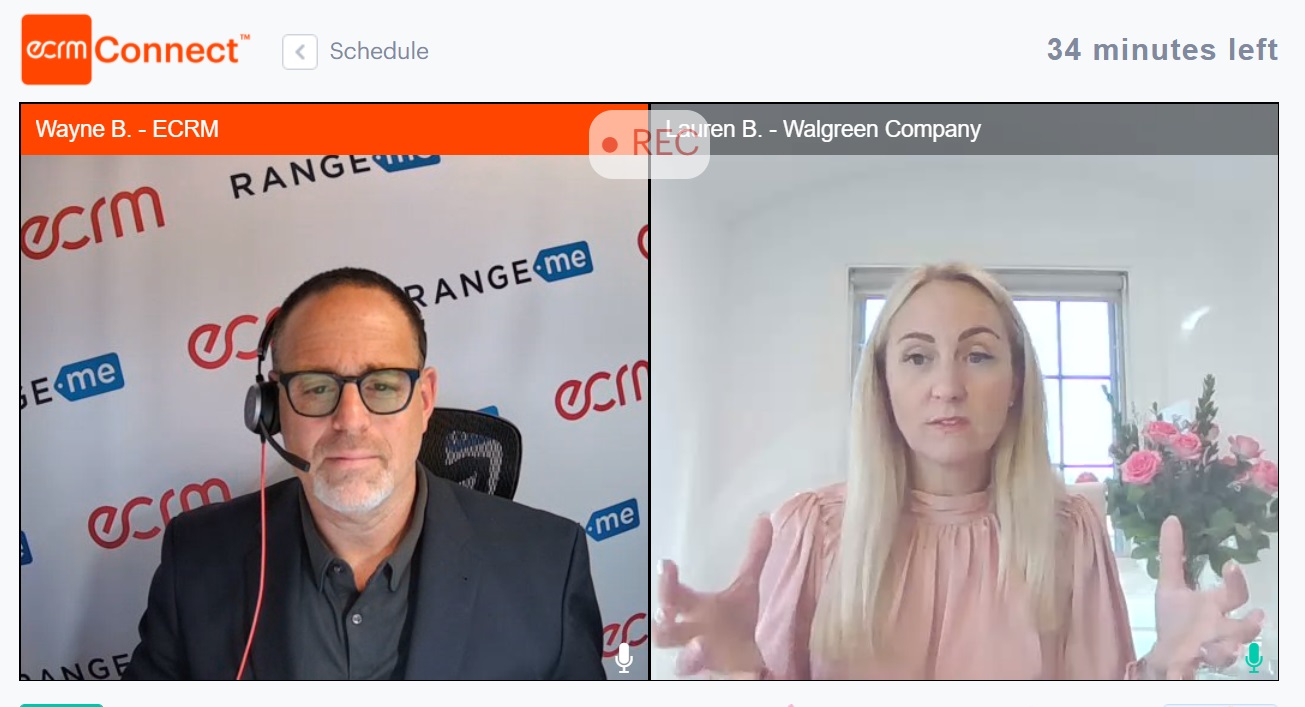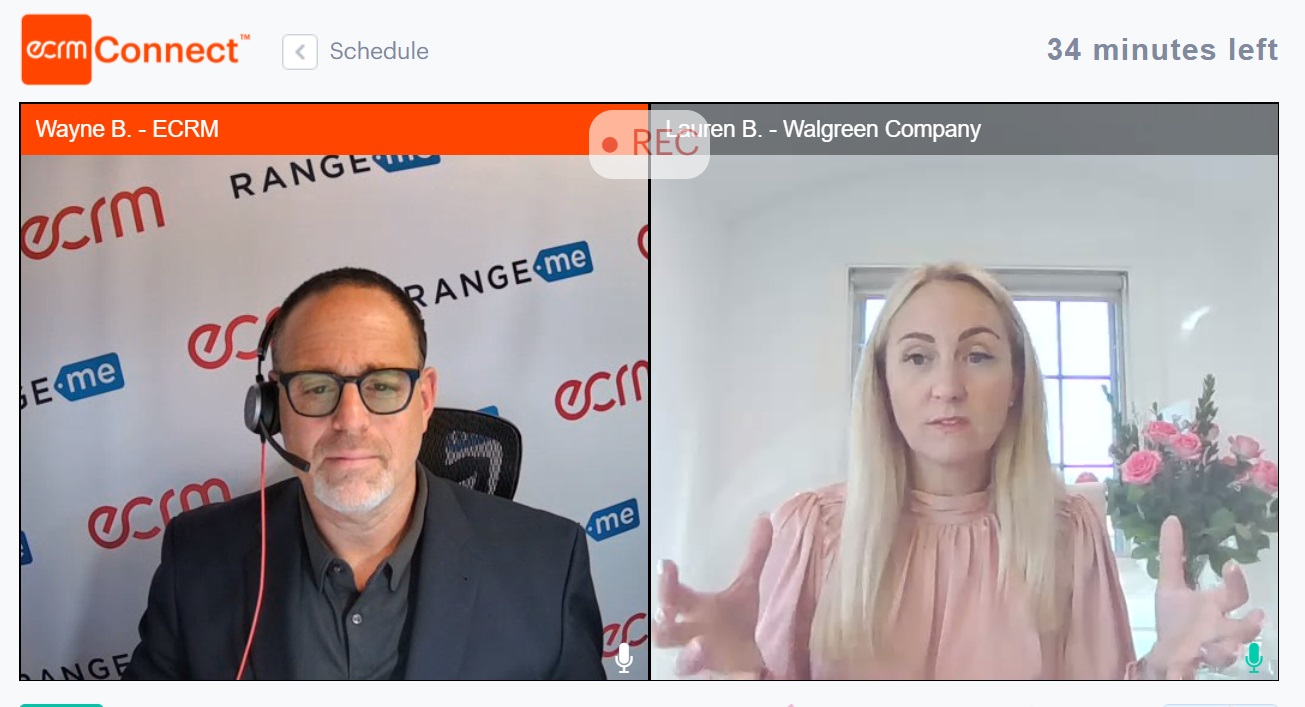 ECRM's Wayne Bennett & Walgreens' Lauren Brindley during ECRM's Global Market: Fall Experience
A community focus, globally
A large part of Walgreens' focus on diversity ties into its vision of being the leading partner in re-imagining local health and well-being for all. "We do represent very diverse communities, whether that be in the U.S. or around the world," says Brindley. "So in everything that we do, we need to put diversity, equity, and inclusion in that, to make sure we are showing up as relevant and modern wherever we serve our customers."
This focus on local communities is happening worldwide via Walgreens' Global Inclusion Council, which consists of senior leaders from throughout WBA who share products, trends, and best practices around supplier diversity.
"It's very dynamic, and we meet regularly," says Brindley. "So if you are a diverse supplier in the U.S. that's growing fast, and we see a trajectory, we will help you move into the U.K. or our other international markets. We want to help accelerate your global development."
To help develop more tailored local assortments, Walgreens has incorporated supplier diversity into its standard processes to make them more efficient and effective. One way this manifests itself is in the retailer's assortment clusters – one of five or six different merchandising schemes that are developed based on the demographics of the community around the stores.
It's much more important that we think about this as a culture change within our organization

Lauren Brindley, Walgreens
"In some cases, we've had to add a cluster," says Brindley. "For example, in some categories we've added a Hispanic or African-American cluster. There are certain stores where we recognize that our customers have different needs and there are opportunities to better serve them. We can also view the percentage of business that is done by diverse suppliers within a category and help our category managers to understand which diverse brands are available if we don't have enough diversity in a particular category."
Sometimes this means flipping the script when it comes to merchandising, as Walgreens did across 500 stores that had a bigger need for textured hair products, and put those products front and center. "it's not only about what products we offer but about how we show up," says Brindley. "We're customer-led in everything that we do. This isn't about working with big or small businesses, it's about making the right calls in the right stores based on the customer, whether it's displays, marketing, or merchandising."
Coaching up diverse brands
Walgreens also works with different organizations to help diverse-owned small businesses succeed at retail. One such program is The Top Shelf Services Business Cohort, a program Walgreens sponsors with the Women's Business Development Center that's designed to help established professional services businesses access procurement opportunities in the mass retail market. Participants will have the opportunity to pitch their services to a select group of corporate representatives who will provide valuable feedback.
"As part of the Top Shelf program, participants get access to training, executives who can mentor them and coach them through areas such as risk mitigation, distribution contracting and other areas that are helpful for building their business," says Brindley "It's really to support up and coming businesses that have a great product, a great brand, or a great idea and are really trying to understand how to get it to market."
The most recent program was held this past summer and has 25 graduates, and more than 70 businesses have participated in total to date. Some are currently launching into retail as a result.
Opportunities with Walgreens
For diverse suppliers, there are many ways to get engaged with Walgreens buyers. The merchandising teams have been given clear guidance to actively look for diverse suppliers during their category line review process, and one of the best ways of getting in front of them, according to Brindley, is through RangeMe. Brands must make sure to indicate that they are a diverse supplier with all of the necessary certifications that may be required. 
The ideal supplier will have an offering that is either better than the current solution in their segment, or one that provides a new solution to an unmet need. "It's really about trying to offer something new or unique or differentiated and providing something to our customers that they don't already have," says Brindley. "And in the case of diversity, there are a lot of unmet needs."
Join these ECRM Supplier Diversity Sessions!