Growing your business takes careful planning. If you're like many small- and medium-sized businesses, allocating financial resources to cover set expenses, investments, and finance growth strategies is where creativity and resourcefulness are needed.
It's likely you have a list of growth initiatives that you devised to carry you to the next level. Finding the right funding partner allows you to stay flexible as you reinvest in your company to meet other growth opportunities.
Identifying the right resources to fuel your expansion can ensure you get and stay on a growth trajectory. But how do you do this? Business veterans will tell you that hastily selecting partners can set a business back, while avoiding the decision can cause you to miss out on key opportunities for long-term growth. The key to success is to take steps early to put resources in place to support opportunities when they occur.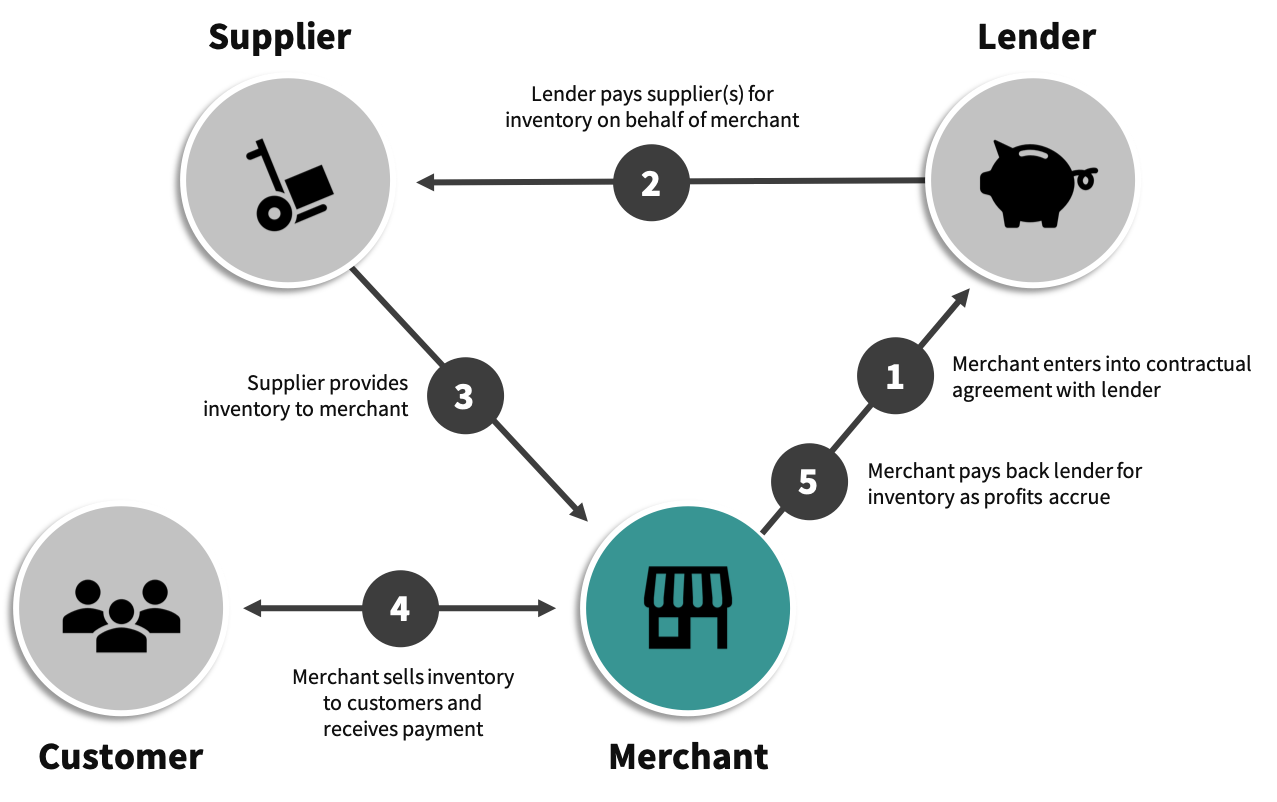 What is inventory financing?
Inventory financing is a form of short-term loan, line of credit, or funding that gives you the cash to pay your suppliers to produce inventory and then uses the inventory as collateral against funding. Lenders in this space include traditional banks, specialist inventory financing companies, or online lenders.
Inventory funding leverages the resources of a financing partner to pay for inventory production, which is one of the largest expenses many brands report. Funding can be customized to address your business's exact manufacturing, shipping, and sales timelines so that you don't make a payment on goods until the inventory sells. This works well with natural cashflow cycles.
The products produced typically act as the collateral for the financing, meaning that if the business reports an inability to repay the funding, the inventory can be sold to cover the debt.
Inventory financing is especially valuable to a business experiencing a significant delay between paying for inventory and receiving payment from retailers. It is also helpful for businesses that want to receive volume-based discounts by placing larger orders to support all of their sales channels. This works best when done on a quarterly or other regular basis and can help to prevent the stock-out issues that hinder growth.
Inventory Financing through Kickfurther
For consumer packaged goods (CPG) companies, a growth funding option that provides larger amounts than traditional financing at faster speeds is inventory funding with Kickfurther.
With Kickfurther, manufacturing costs are sent directly to suppliers, and paid back as the inventory sells. This payment system aligns better with natural revenue cycles than does the immediate repayments many traditional and online loans feature. Funding inventory through Kickfurther prevents growing businesses from having to pinch cash on hand and choose between paying for additional inventory or investing in the marketing, equipment, and staff needed to grow.
What are the benefits of working with Kickfurther?
● 30% lower costs:
When you compare our rates to other forms of funding, you'll often see you're saving. Companies returning to fund additional deals often see their rates fall each time.
● Higher funding opportunities:
We have an average funding of $78,000 but can fund up to $2MM to manufacture new inventory or get reimbursed for current stock and reinvest where your business needs it most.
● Funded in Minutes:
Once approved, our community of backers fund most deals within a day, often within minutes to hours.
● Custom Payment Terms:
Businesses create a custom payment timeline of one to 10 months based on their expected sales cycles, with no payments until you start making sales. This alleviates the cash-flow bottleneck lenders cause without customized repayment schedules.
Interested in inventory funding through Kickfurther? Create a business account today at Kickfurther.com or connect with our team on RangeMe services here.