Between 2017 and 2019, large brands in the U.S. lost volume at a rate of 1.5% a year, while small brands grew 1.7%, according to a report from management consulting firm McKinsey & Company.
The time for small brands is now. Consumers are frequently turning their backs on mainstream companies and looking at what small brands have to offer. Many of the rising small brands are those that are tapping into the trends consumers want, from healthier products (either for humans or the environment); to a mission that resonates with consumers, such as donating a percentage of profits; transparency with their backstory and mission that builds consumer trust; to fun labeling that's hard to resist.
Tail-wagging ethos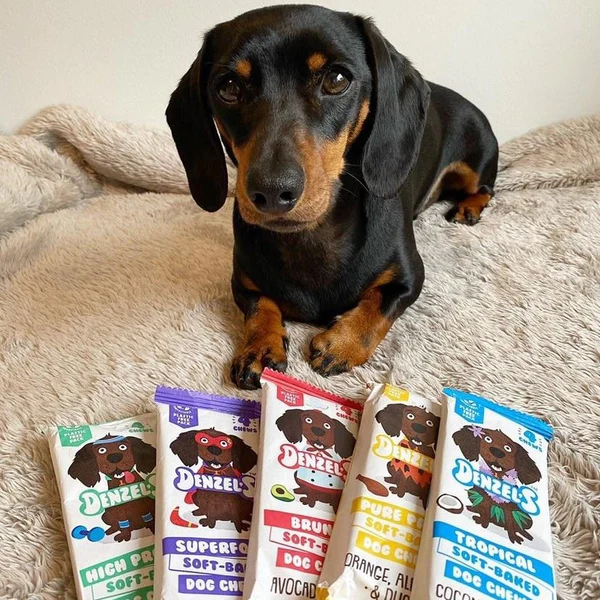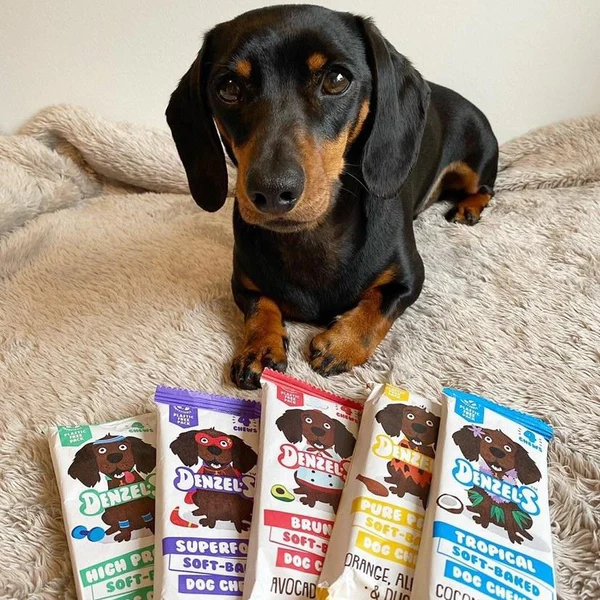 Take, for example, London, U.K.-based Denzel's, which features a different pup on every variety of its soft-baked dog chews, almost begging consumers to buy them. I'm tempted, and I have a cat.
The treats deliver, too. They're made with fresh fruit, healthy fats, antioxidants, and fiber; only natural ingredients; and the packaging is 100% plastic-free and biodegrades in weeks. If that's not enough, Denzel's promises to plant one tree for every order placed and to use no palm oil.
Dogs might like what's inside the packaging, but humans — especially Millennials and Gen Z — like what these products stand for.
Incubator brand support
Denzel's was selected in April 2022 as one of six small brands for U.K. retailer Tesco's Incubator Programme. The Incubator Programme began in 2017 and has introduced brands every year since then.
"We're committed to supporting small suppliers," says Christina Bridstrup, Incubator Programme lead. "We are also aware that customers are increasingly looking for smaller, authentic, natural, and local products. Introducing the program was a way that we could support small brands whilst tapping into this mindset to be more innovative, different, and relevant."
To be selected, suppliers must have been in Tesco stores for at least six months, and the retailer looks for "brands that are genuinely small, offer real innovation, fulfill a genuine customer need, and fit in with our category strategy," Bridstrup explains.
And while Tesco wants the brands to have some know-how, understand their customer, and have a clear idea of what they offer to them, Tesco also helps educate them through learning events "where they can meet and hear from people from the key Tesco stakeholder groups they work with, listening sessions with senior leadership, and additional time and support from their category teams," says Bridstrup. "We can help them with customer insight, and they can also benefit from the network of current and past incubator brands."
Clear positioning
ACTiVIT flavored sparkling water with vitamins from ACTiPH, is another brand selected this year in Tesco's Incubator Programme. Just three weeks into the program, Nicholas Ross, ACTiPH's CEO, says he's already "seen a great deal of support … It's going to be a massive support to us in the wider market as we continue to build awareness and trial with Tesco customers," he explains.
"We're seeing many more niche brands with a wider distribution," says Kyle Hildebrant, principal partner of OVO, a Portland, Oregon-based branding agency, who adds that local brands are also gaining traction.
But these companies have to offer something new, he points out. "For the David-sized brand to have any chance against the Goliathan will require strong, differentiated positioning and a compelling brand identity. Take Ben & Jerry's ice cream. What started as a small, niche, brand has grown to a powerhouse, primarily due to clearly articulated positioning."
Indie retailer focus
Small, independent retailers are also doing their part to introduce small brands. Canyon Market in San Francisco is always adding new products by small, local brands.
Customers love these products, but it's a lot of work, says owner Richard Tarlov. "More invoices, more deliveries coming to the loading dock, sometimes having to help these folks along," he notes.
Tarlov's open to most new products, though admits shelf space is tight. Sometimes he removes low-performing SKUs to make room. "It's a constant puzzle, fitting pieces together," he explains. The items he does bring in, he learns about through various means: trade shows, direct pitches from suppliers, or customer requests.
But what particularly draws his attention is unusual products. He's about to introduce a new spice – a pimento pepper powder – from Northern California. "It's local, it's functional, it's different, and it's got a story."
He's interested in the company, too. "It's important that the company have all their ducks in a row – what does it cost, what does it cost to ship it, does it have distribution, what is the package like, and does it work for us, fit on our shelves, does it stack? All that is important."
Tarlov also wants an assurance that the company's able to follow through on its commitments. "We like to see the entrepreneurial zeal behind it. We don't want them to ship it once or twice then disappear. We want to see that and know they're going to be around in a year."
All small brands hope they'll be around in a year, even more if retailers follow Tarlov's and Tesco's examples.
Do you follow us on TikTok yet? Get insight into unique trends, trade shows, best practices, and so much more!