It can be hard to keep up with the several different certifications seen on the packages of our food and drink these days and now there's another one you can add to the list: Regenerative Organic Certified.
The word "regenerative" has been used a lot lately, usually tied with the word "farming," so I set out to learn a little more about it, and what retailers and CPG companies are doing to promote it.
The low down on regenerative farming
Put simply, regenerative farming gives back to the earth. It leads to healthier soil and thus healthier food, the ability to support the planting of new produce, being able to capture carbon and prevent it from harming our environment, and promotes biodiversity. What it isn't is monocropping as far as the eye can see; regenerative farming doesn't require synthetic chemicals; it's not soil that needs tilling, which destroys diversity, nutrients and microorganisms; it is not factory farming.
In fact, animals can factor into regenerative farming. Maligned in recent years for their environmental toll which led to the influential plant-based movement, livestock raised on a regenerative farm can be beneficial. Animals trample healthy plant matter and manure into the ground, enriching the soil, making it better at capturing carbon, retaining water, and growing plants.
Regenerative agriculture may be what saves our fragile earth. Recently a senior United Nations official stated that without it, there are 60 harvests left on the planet. Add to that, the food system is responsible for up to a third of greenhouse gas emissions, and about 80 percent of those result from agriculture.
We need to do something so humans can continue to eat.
One solution is the entire food chain working together to promote regenerative farming and help consumers understand it.
Suppliers supporting the earth
GoodSam is a company that's supporting regenerative agriculture. It launched last November with chocolate and nut products that are farmed regeneratively near the equator. "They had the healthiest soil I'd ever seen," says CEO and Co-Founder Heather Terry, who, through working with the same farmers, has extended into other products grown on the same land, including macadamia nuts, and coffee.
"Listening to the farmers and understanding how they farm, regenerative agriculture became a very important piece of our business," she says. "We're helping protect their business models by purchasing from them."
And while the regenerative agriculture efforts of GoodSam may not be the initial reason why consumers buy their products, it does help keep them as customers. "We bring them into our story,'" says Terry. "They first buy for themselves and then for other good reasons."
Large-scale suppliers are also doing their part towards encouraging regenerative agriculture. General Mills has partnered with farmers on six key principles which include year-round planting for healthier soil and planting cover crops to protect the earth from the elements.
The food giant aims to regenerate 1,000,000 acres of farmland by 2030. It has partnered with Understanding Ag to launch pilots across three regions, providing farmers with tools, training, and technical assistance. General Mills highlights what it's doing with regenerative agriculture on packages for brands like Annie's and Epic Provisions.
U.S. Retailers do their part
Whole Foods, unsurprisingly, is a big supporter of regenerative agriculture, requiring third-party certifications or substantive information from suppliers about soil health to know if they truly support regenerative agriculture practices.
The Giant Co., which has 187 stores across several banners, has teamed up with the Rodale Institute, which develops regenerative organic agriculture solutions through an experimental farm where it researches regenerative organic agriculture and supports and trains farmers.
It's not just big retailers that are supporting the regenerative farming movement: Jimbo's, which has four stores in San Diego, highlights regeneratively farmed products and specifically seeks them out.
British supermarkets embrace regenerative ag
In the U.K., Waitrose is aiming to improve both soil and the natural world through a commitment to restorative land management. This focuses on the regeneration of topsoil, carbon capture, water management, biodiversity, and resilience to climate change.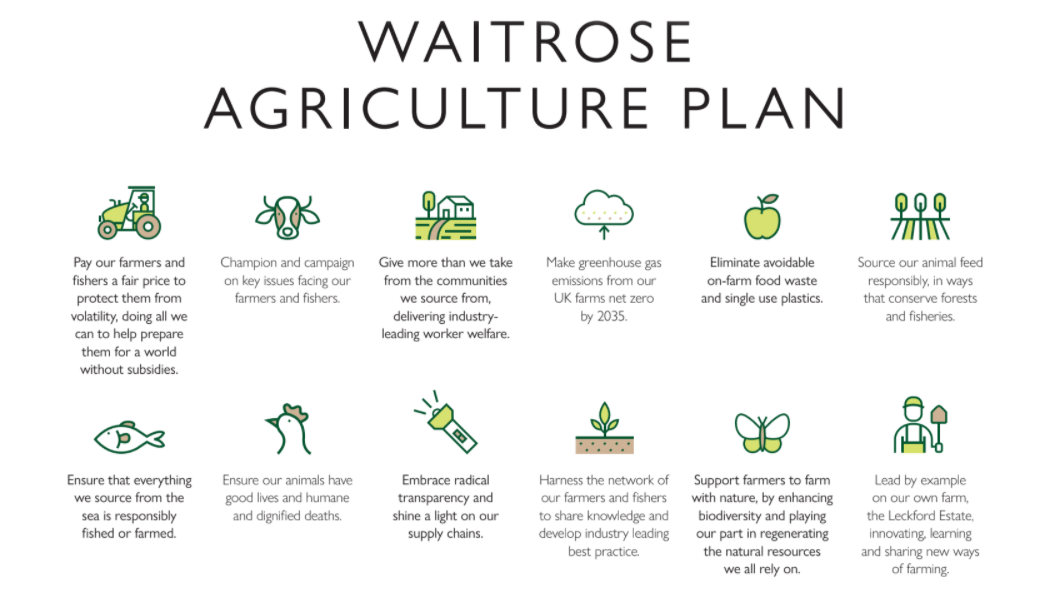 Marks & Spencer began a five-year project, Farming with Nature, in January, which is "designed to help farmers become more resilient to the biggest environmental challenges – spanning climate change, biodiversity, soil health, and water usage," according to Steve McLean, head of agriculture and fisheries sourcing, M&S Food Group.
The program provides farmers with industry-relevant, specialist support and tools to help them become more sustainable and deliver measurable improvements to their businesses, whilst encouraging the uptake of nature-friendly farming practices.
It includes all British Select Farms that Marks & Spencer works with, ranging from meat to seafood and produce. The retailer will share outcomes on these farms with customers through digital and social channels.
This seems like an important enough topic to keep track of and support. I'll be doing my part to support these companies who are ensuring we can keep feeding future generations. What about you?
To discover more sustainable products check out the Sustainability Collection on RangeMe.
Not a buyer? Log in to RangeMe here to add your sustainability certifications or sign up for free today!