Forever 21 recently filed for bankruptcy, and it joins a growing line of fashion brands and retailers closing its doors in the wake of declining sales over the past two years—Barney's New York, David's Bridal, Claire's, Payless, to name a few.1 http://www.thefashionlaw.com/home/retail-woes-a-bankruptcy-timeline 2 https://www.usatoday.com/story/money/2019/07/03/2019-store-closings-list-these-retailers-shuttering-locations/1597997001/
And it's not uncommon to hear that beloved department stores, while not closing completely, are shuttering certain stores. Just look at Macy's recent announcement that they will be closing their landmark store in Seattle.3 https://www.seattletimes.com/seattle-news/macys-is-closing-its-landmark-downtown-seattle-store/
But the closing of these stores—often falling under the label of "fast fashion" (re: clothes that move from catwalk to consumers quickly, and are made inexpensively, in order to capture the latest fashion trends)—is a signal that fashion retail trends are changing just as fast as the fashions themselves. What's more, it's showing that there's a new era emerging, one that's been showing itself across all of CPG, and growing in prominence: Sustainability.
Wait—what is sustainable fashion, and why should I wear it?
Great question. You've probably heard the term, but sometimes it means different things to different people. In a nutshell, it's not just about the textiles used, it's about the process of bringing fashion to market as a whole, and everything that it includes, like the cultural and ecological aspects, and it has to take into account all stakeholders, from the users and the producers, current and future people living on the planet.4 https://en.wikipedia.org/wiki/Sustainable_fashion
Increasingly, consumers would rather go naked than wear clothing made from fabric that could be harmful to the environment, or contain carcinogens, or toxins or just overall bad chemicals. Okay, maybe they wouldn't go naked per se, but the way a piece of clothing or an accessory is made is something consumers are concerned about. They don't want the bad stuff on their body or on their planet.
So…fast fashion is a no-go?
Seems that way. Or at least its popularity is lessening. While the appeal of having clothes that go from runway to this weekend's party at lightning speed is still there, the ecological implications are gauche for many consumers.
A recent Forbes article noted that, "Professional women are catching on to the new trends in textiles and technology. They are choosing garments and materials engineered to last longer. Some of the most sustainable materials are natural fibers (cotton, hemp, linen) and futuristic/innovative fabrics. They are ditching cheap synthetics (polyester, nylon, spandex). These fibers are not grown naturally, and instead come from chemicals and polymers."5 https://www.forbes.com/sites/ellevate/2019/10/07/why-sustainable-fashion-matters/#4dc43c71b8e9
And as sustainable fashion rises, we're seeing more and more fast fashion retailers close stores, doors, and file bankruptcy papers. (See above)
And, if you need more evidence that sustainable fashion is A Thing, for now and evermore, the Duchess of Sussex, Meghan Markle, championed the movement on her most recent visit to Africa.6 https://www.marieclaire.com/celebrity/a29378965/meghan-markle-message-sustainable-fashion-royal-tour-africa/
Well if Meghan Markle is a fan….
Understandable. But I don't have a lot of cash to burn, yet I do enjoy a trendy outfit.
Right, right. But even if she wasn't, there are other reasons consumers and fashion retailers and suppliers will be embracing the sustainable fashion movement. It's better for the earth, it's better for humans and animals, it lasts longer…the list goes on.
Who doesn't? Also, you're in luck—there are several clothing suppliers out there who are already supplying eco-friendly fashion at wallet-friendly prices. And I suspect that as the sustainable fashion movement picks up speed, more retailers will get on board, and you'll be back in slip dresses and oversized belts in no time.
OMG, that is so 2006.
Whatever.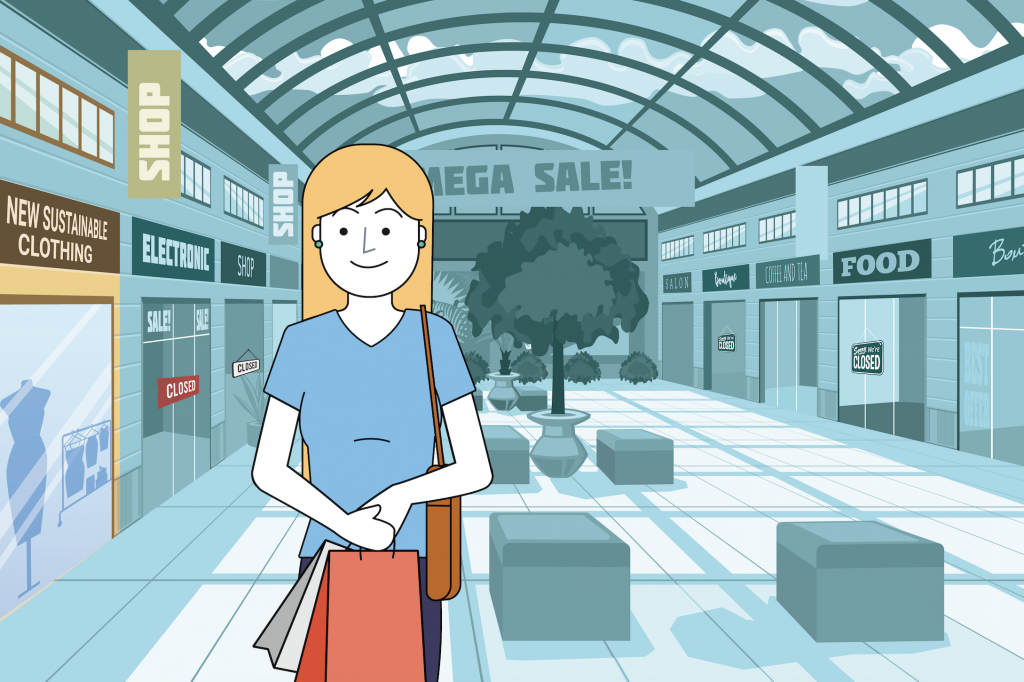 | | | |
| --- | --- | --- |
| 1. | ↑ | http://www.thefashionlaw.com/home/retail-woes-a-bankruptcy-timeline |
| 2. | ↑ | https://www.usatoday.com/story/money/2019/07/03/2019-store-closings-list-these-retailers-shuttering-locations/1597997001/ |
| 3. | ↑ | https://www.seattletimes.com/seattle-news/macys-is-closing-its-landmark-downtown-seattle-store/ |
| 4. | ↑ | https://en.wikipedia.org/wiki/Sustainable_fashion |
| 5. | ↑ | https://www.forbes.com/sites/ellevate/2019/10/07/why-sustainable-fashion-matters/#4dc43c71b8e9 |
| 6. | ↑ | https://www.marieclaire.com/celebrity/a29378965/meghan-markle-message-sustainable-fashion-royal-tour-africa/ |