We're celebrating Pride Month by showcasing the LGBTQ-owned brands on RangeMe. But first, let's dive into why we are committed to celebrating the LGBTQ+ community every June.
Lesbian, Gay, Bisexual, Transgender, and Queer (LGBTQ+) Pride Month is celebrated every year in June to honor the 1969 Stonewall Uprising in Manhattan. And in the consumer packaged goods (CPG) and retail industry, supplier diversity has been top of mind for retailers across the country. There are tons of queer-owned companies to support this month and beyond.
What qualifies an LGBTQ-owned business?
An LGBTQ-owned business is any business owned and operated by an individual that identifies as Lesbian, Gay, Bisexual, or Transgender (including non-binary/gender non-conforming individuals). To get certified as an LGBT Business Enterprise (LGBTBE), a business must meet the following criteria:
Majority (at least 51%) owned, operated, managed, and controlled by an LGBT person or persons who are either U.S. citizens or lawful permanent residents
Exercises independence from any non-LGBT business enterprise
Has its headquarters in the United States
Has been formed as a legal entity in the United States
Certifications for LGBTQ-owned businesses
1. Self-Certification:
There are two main options to self-certify your business. You can download and complete the affidavit form or follow the SBA online self-certification process.
2. Third-Party Certification:
The National Gay and Lesbian Chamber of Commerce (NGLCC) is the only third-party certification entity in the United States for LGBTBEs. To help LGBTQ+ entrepreneurs, the NGLCC has created a certification program to give business owners from within the community an advantage. Certified LGBTBEs are scouted by NGLCC corporate partners looking to increase their spend with the LGBTQ+ business community. Certified LGBTBEs have access to more than 160 contacts with retail leaders through the NGLCC.
Supporting LGBTQ+ brands is one way to counteract the disproportionate privilege and audience that is granted to non-minority-owned businesses. There are countless queer-owned businesses that you can support during and beyond Pride Month.
Ahead are 10 LGBTQ-owned brands that can be found on RangeMe (and major bonus, most are NGLCC certified!):
Funatic: Novelty & Private Label Socks
When asked how his personal experience of being a part of the LGBTQ+ community impacted running a business, Barr explained it was an integral part of starting Funatic Socks.
Want to make one of the most common and generic Christmas presents funky and fun? Yes, I'm talking about socks! In 2016, when masks were for Halloween and Lions were still King (not Tigers), Mike Barr founded Funatic Socks at his dining room table. About a year later, he called his lifelong friend from elementary school, Tanya, and asked her to come aboard as Funatic's Creative Director. Now, the pair makes funny, edgy, and pop-culture-inspired socks that appeal to men and women of all ages. In reaction to the pandemic, the pair also ventured into creating custom face masks.
"As a suburban kid coming of age in the late-80s and early-90s, I quickly learned that the LGBTQ+ community is super diverse, representing all colors, all ethnicities, all political leanings, all education levels, and all socio-economic backgrounds. So years later when I started Funatic, I had all those groups in mind when we began creating designs that would appeal to people with diverse backgrounds and beliefs."

– Mike Barr, Founder, Funatic Socks
Funatic is backed by an amazing team making sure the company finds its way into independent retail stores across the USA, Canada, and Europe. Whether you find their socks in a Brooklyn boutique, a hardware store in Pigeon Forge, an art gallery in South Beach, or a big box retailer with thousands of stores nationwide, Funatic promises to design socks for everybody–no matter what beliefs you carry or what your background may be.
As an emerging brand, Funatic is finding RangeMe to be an important part of their arsenal as they begin to pursue opportunities with larger multi-door retailers and continue growing with independent retailers across the country. "RangeMe has opened doors to present our socks to buyers that we otherwise would not have met," says Barr.
Don't get cold-feet, give Funatic socks a try!
NONA Vegan Foods
Yes, it is possible to mix authentic Italian cooking with vegan-friendly ingredients! In tribute to her Italian roots and mother's one-of-a-kind cooking, Kailey Gilchrist created NONA Vegan. What she calls the sauciest adventure of her life has now led to her running a seven-year-old successful and award-winning business. After spending countless hours in her kitchen, Kailey now carries the vision of uniting a global community with the shared values of kindness, inclusion, and a love of good food. Perhaps being vegan isn't such a big missed steak.
Previse Skincare
Did you know that skin is the largest organ in the human body? That explains why consumers take their skin health so seriously, and Previse Skincare understands this obsession. Following the wise words of his grandma – "We have one life. Don't live with regret," Sean Patrick Harrington took a leap of faith and started his company. Previse was founded with Swedish and American Dermatologists passionate about creating better for us and better for the planet skin product solutions. Due to his personal battle with skin issues that lead to deep physiological scars, Sean knew he had to help others experiencing similar circumstances. This feat wasn't always easy. Harrington faced many obstacles as a gay man, but these obstacles inspired how he conducts business and the work culture he has created.
"As a gay man chartering a professional career in corporate America, I often encountered what I termed, 'The Pink Ceiling.' I did not speak sports, nor did I have children. At Previse, we treat all our contractors, employees, and clients in a bespoke manner allowing for shorter workdays on the Sabbath, encouraging participation in local awareness clinics and marches, and more. We serve those of means and equally those who are marginalized and underrepresented."

– Sean Patrick Harrington, Founder, Previse
Previse has a unique identity in the market as a LGBTQ+, BIPOC, and Women-led business. And to support these communities the company gives back when they can. For example, in 2020, Previse donated more than $100K in goods and services to a variety of LGBTQ+ organizations across the U.S. In 2021, they have already doubled that figure.
They're able to do so by selling through retailers and direct-to-consumer. Harrington uses RangeMe as an opportunity to connect with these potential retail partners. "RangeMe is an opportunity to connect with buyers at a variety of retailers," explains Harrington. "We hope by further highlighting our ethos, medical, and skin wellness attributes, coupled with our unique identity, that we secure much needed opportunity in the marketplace."
Looking back over the arc of his life, Sean is reminded of how his parents continuously empowered him throughout his skincare struggles. Now, he is happy to pay it forward through Previse.
Urban Accents
Perhaps one of the most common misconceptions of plant-based foods is their inability to contain good flavor. However, the team at Urban Accents is dedicated to squashing this rumor. Jim Dygas and Tom Knibbs are the flavoristas and culinary wingmen of any plant-based food lovers' dream. With an understanding of the power of food and its ability to pull people together, the duo has grown Urban Accents to more than 150 gourmet products over the past few decades. Urban Accents provides unique, small-batch crafted spices, sauces, and prepared meal mixes. While Jim and Tom may personally drink cheap wine while cooking, they emphasize the importance of unique and quality ingredients when preparing a top-tier plant-based meal.
Bazzle Baby
The word "drool" sort of rolls off the tongue, but not your baby's clothes. Bazzle Baby CEO Michaelene Cadiz knew this struggle all too well and wanted to create a product that would help. Of course, some of the cutest fashion statements come from baby clothes, and Bazzle Baby had no intention to ruin this with their line of anti-drool products.
Michaelene Cadiz is a Hispanic, LGBTQ, female business owner who has taken her experiences both professionally and personally to create a brand that supports the "modern family" and represents every walk of life, including all genders, races, and sexualities.
"Growing up as a child in a traditional Hispanic household has shaped my personality, ability to stand strong, and stay driven to reach my goals while standing out in a crowd. During the beginning of my young professional career, I was able to embrace diversity once again by coming out as a lesbian to my colleagues and friends. This was both a personal and professional triumph."

– Michaelene Cadiz, CEO, Bazzle Baby
Cadiz is proud of these accomplishments and takes every opportunity to showcase what makes Bazzle Baby unique, especially when showcasing their products on RangeMe. Bazzle Baby incorporates RangeMe into their retail strategy to efficiently connect with buyers from around the world.
"RangeMe allows brands like Bazzle Baby to highlight what makes us different like being a women, Hispanic, and LGBTQ-owned and certified company," explains Cadiz. "This helps us attract buyers that make it a priority to do business with a company as diverse as Bazzle Baby. It is a win for everyone!"
Bib me baby one more time!
W*nder
Who needs beer when you can kick back and enjoy an ice-cold CBD-infused beverage instead? W*nder creates drinks that are precisely dosed with just the right amount of CBD but not enough to cause sleepy or restless side effects. With the knowledge that one in seven Americans already use CBD, Tanisha Robinson, the Founder of W*nder, steered her beverage journey towards the CBD market. W*nder's motto "more focus, and less hocus-focus" is at the heart of the company's transparency with ingredients and high-quality standards.
MR LOUIE
Let's face it – much like toddlers (if they were furry), dogs are cute, but they are also messy and can get smelly. MR LOUIE, a man's best friend for odor and stain removing saves the day when your fur baby finds itself in a mess. The non-toxic, fast-acting formula effectively modifies, neutralizes, and eliminates odors and stains from carpets and upholstery.
As an NGLCC certified brand, Scott Eisenhart, a member of the MR LOUIE team shared some insight into the benefits of certifying with the organization.
"We very much value the corporate partnerships and network opportunities provided by NGLCC. Equally, it helps to level the playing field with mega e-tailers and retailers. We will always be proud of who we are, and for what the MR LOUIE brand represents."

– Scott Eisenhart, Member of the MR LOUIE team
With being part of such a massive pet-product market, it can be difficult to stand out from the crowd, which is why MR LOUIE turned to RangeMe. "We work with RangeMe to extend our reach and visibility with retail buyers, which allows buyers on RangeMe to discover all the information that makes MR LOUIE a winning product for their stores."
Who says you can't teach an old dog new tricks?
MR LOUIE is currently in pre-launch mode so if you are interested in signing up for future updates and launch notifications, visit their website here.
Pulp & Press
Have you been struggling to concentrate recently? Well, maybe some freshly squeezed organic juice can help! In 2014, Pulp & Press was founded in London, Ontario. By using an industrial-grade hydraulic cold press juicer and organic ingredients from local farmers, the company makes an assortment of healthy and delicious fresh juices. I guess you could say they are worthy of a pretty special press release.
Kiko's Coffee & Tea
At the beginning of 2019, Kikos Coffee & Tea started to rise and grind. Kiko's coffee is certified Colombian and is roasted strictly in Colombia, making sure the coffee is not blended or roasted with beans from other origins. Within their assortment of products you can find their multiple sizes of coffee, different types of roasts, Snapchilled coffee cans, and 13 loose leaf tea flavors. They are Colombians representing not only their country, but their history through coffee.
After struggling as a minority-owned business, Kiko's found the help of LGBTQ+ allies within the retail industry.
"NGLCC and the Massachusetts LGBT Chamber of Commerce have played an important role in shaping our company and helping us achieve what we have now. By being certified we get to meet other entrepreneurs from the community and have access to courses and classes, exposure, and multiple programs to improve skills and improve our company overall. We truly believe that becoming a member of NGLCC, the Massachusetts LGBT Chamber of Commerce, and getting certified by the NGLCC was the best thing that happened to us."

– Juan Arroyave, Managing Partner, Kiko's Coffee & Tea
All of Kiko's products have minority and diversity certifications listed on their products and their RangeMe profile to show retailers and consumers they represent not only the industry, but minorities and the LGBTQ+ community. Kiko's is actively involved within their community and has partnered with several different organizations like the Impact-U foundation to help educate those in need from vulnerable communities in Colombia. Kiko's has donated more than 500 lbs of coffee in the last year to those in need over the course of the COVID-19 pandemic.
As a small business it can be difficult to get attention from retailers in the industry.
Arroyave further explained how they use RangeMe to get retail attention. "We use RangeMe to make submissions to the retailers that share our target audience and that may be interested in carrying great products with outstanding quality."
I highly suggest that you give Kiko's a shot.
Credible Products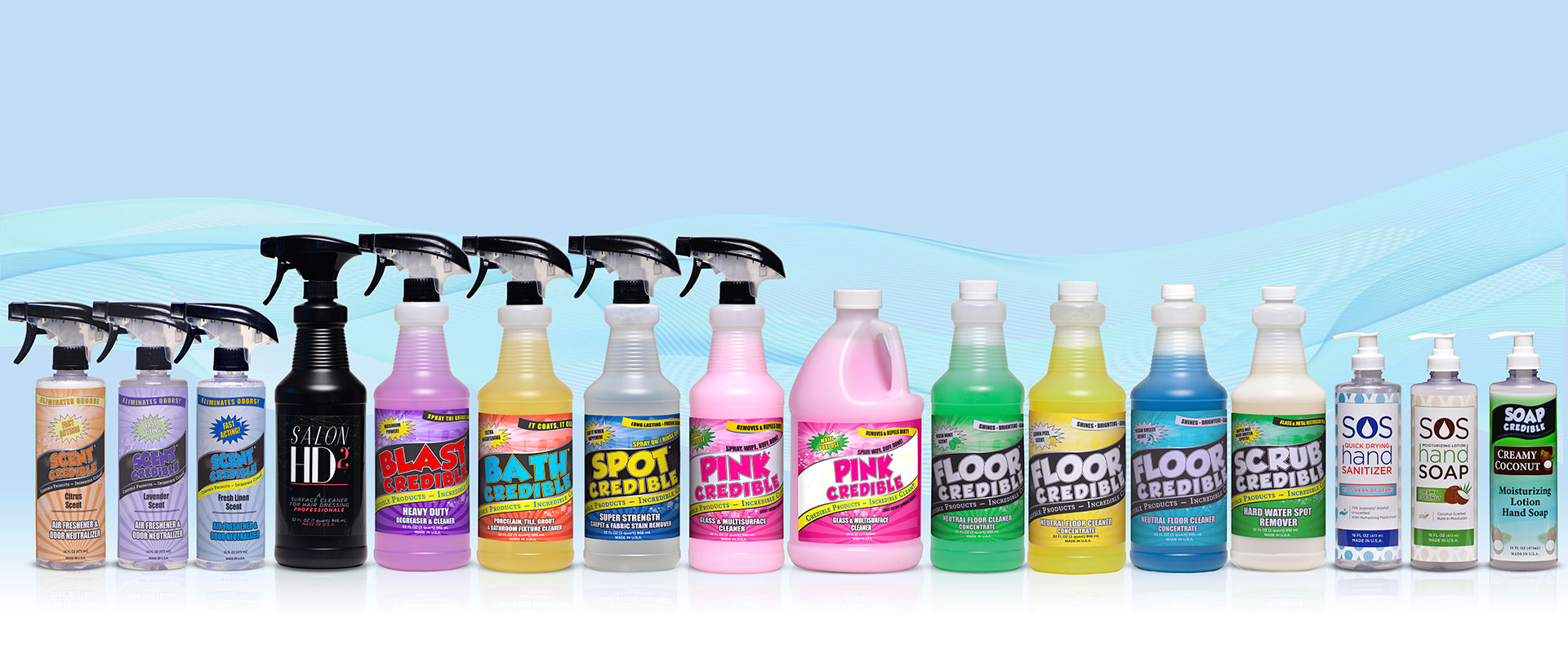 Do you suffer from ADCD: Attention Deficit Cleaning Disorder? It's where you start to clean one thing and get distracted by another thing that needs cleaning, thus creating a never-ending loop of unfinished cleaning tasks. I think most people can relate, which is why Credible Products is a brand worth checking out. Lisa Pink started the company in hopes of creating the ultimate "lazy person's cleaner." It is safe to say that she succeeded in fulfilling this dream – and another one fights the dust!
We're excited to get the opportunity to showcase these LGBTQ-owned brands and share their products and stories. In celebration of Pride Month, RangeMe created a special LGBTQ-owned product collection showcasing all LGBTQ-owned brands and their products to retail buyers on RangeMe.
Are you a buyer interested in learning more about the LGBTQ+ brands on RangeMe? Browse our LGBTQ-owned collection here.
If you are an LGBTQ-owned business interested in getting NGLCC certified, read how here.